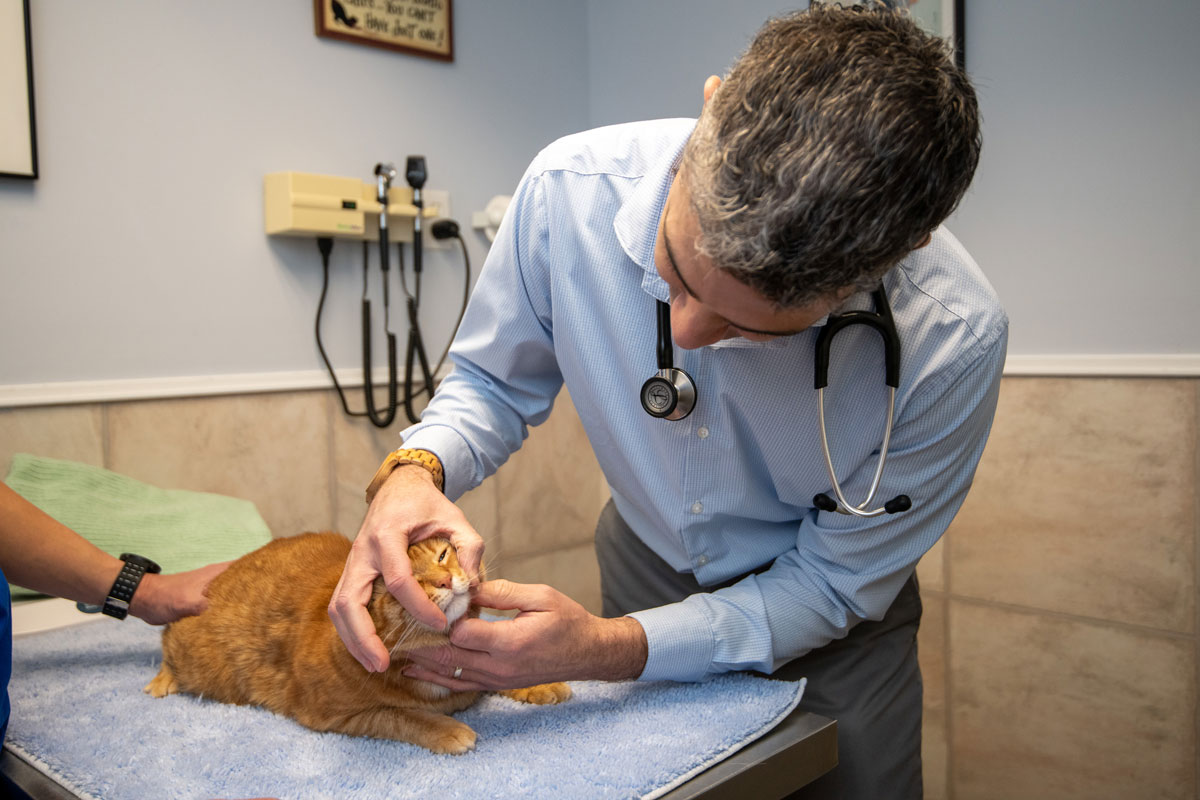 Pet Wellness Visits
At Sleepy Hollow Animal Hospital, we are firm believers that an ounce of prevention is worth a pound of cure. When pet owners are proactive with yearly exams and routine vaccinations, it can protect your dog or cat from diseases and help expose conditions before they become more serious. Our veterinarians will help you stay on top of your pet's health by performing a comprehensive annual wellness exam and vaccine schedule.
What To Expect During Your Pet's Wellness Exam
Upon arrival to the clinic for your dog or cat's annual exam, you will be greeted by our friendly staff and invited back to one of our exam rooms. One of our experienced veterinarians will complete a thorough examination of your pet from whiskers to tail, checking their eyes, dental hygiene, ears, skin and coat, as well as check vital signs, weight, and body for any signs of sickness or irregularity. Our veterinarians may also discuss further wellness and preventative care options with you, such as:
Vaccinations
Spaying & Neutering
Nutritional Counseling
Behavior Counseling
Activity & Exercise
Dental Care
Geriatric Care
Depending on your pet's breed, condition, and age, our veterinarian might also discuss additional screenings and lab tests for diseases which your pet might be at risk of developing. This allows us to diagnose any developing medical conditions early, so we can begin any necessary treatments and protect your pet from any pain or discomfort they might be experiencing.
We Focus on Health and Well-Being
Preserving the daily health of your pet is the most important thing that we can do as a team, with you at the helm. Physical exams, selecting appropriate vaccinations, identifying parasites and discussions about nutrition, as well as medical, surgical and dental care, we provide the most effective veterinary services available.
From the moment you enter Sleepy Hollow Animal Hospital, you are comforted by feelings of care and compassion by the entire staff. We emphasize cleanliness, you are greeted cheerfully and we always strive to make your wait as short as possible, apologizing when emergencies make that difficult.
We are happy to discuss all aspects of health and well-being with you. Our most important job is to help you understand the steps necessary for disease prevention. From housebreaking issues to poisonous plants, from weight control to diet selection, we will always work with you in a way that will make you understand why our motto is: "For your pet's health and your peace of mind!"