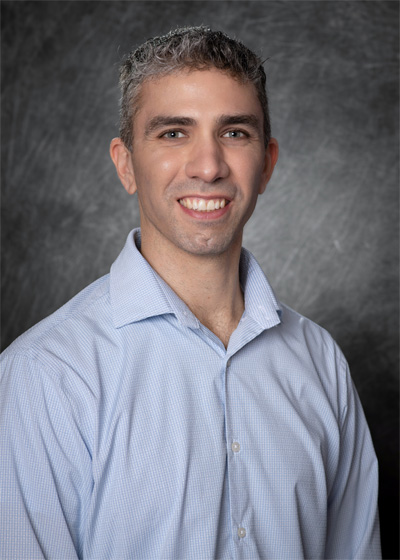 Dr. Peter Romano
Dr. Peter Romano, born and raised in Westchester, provides a personalized and thoughtful style of medicine at Sleepy Hollow Animal Hospital. Dr. Romano grew up in White Plains and attended Stepinac High School. He went on to receive his Bachelor of Science Degree in Biology from Manhattan College in the Bronx. After a short stint as a veterinary assistant, he went on to attend Cornell University where he earned his Doctor of Veterinary Medicine degree. After graduation, he completed a small animal-focused internship at Long Island Veterinary Specialists Referral and Emergency Hospital in Plainview, New York. During his internship training, Dr. Romano received advanced training in both medical and surgical patient care.
While internships are not required in veterinary medicine like they are in human medicine, Dr. Romano thought it was paramount that he receive additional training to see his approach to veterinary medicine come to fruition. Since the completion of his internship, Dr. Romano has been serving the pets and clients of Westchester County. He knows that the citizens of this county treat their pets as family members and seek out the highest quality of care. Lucky for Dr. Romano, this is how he has always felt about all pets and because of these shared beliefs, he has truly enjoyed his time serving the needs of his clients and their pets. Dr. Romano's focused areas of interest are internal medicine and preventative medicine. He lives in Stamford with his wife, also a veterinarian, his two young children, and his two cats, Rashers and Princess Leia. In his spare time, Dr. Romano likes to root for the Yankees, go camping in the Adirondacks, ride his roadbike, and explore New York City history.
Dr. Mary Raum
Dr. Mary Raum is excited to be joining the veterinary team at Sleepy Hollow Animal Hospital and is looking forward to continuing her professional mission of providing individualized, high-quality medicine to the pets of Westchester County. Growing up in Sullivan County, NY, Dr. Raum has fond memories of helping her father on their family farm and creating artwork with her mother, inspiring her to pursue equestrian sports with her pony Kindred Spirit and eventually leading to them competing in nationally-ranked USEF shows. It was during these early days of helping around the riding center that Dr. Raum realized that she was going to pursue veterinary medicine as a career. Dr. Raum received her Bachelor of Science Degree in Biology from Cornell University, receiving honors and distinction in research. She then went on to attend Atlantic Veterinary College on Prince Edward Island (home of Anne of Green Gables) where she earned her Doctor of Veterinary Medicine degree. She started her career as an associate veterinarian in New Jersey where she gained 4 years of valuable practical experience. She then accepted an associate veterinarian position in Orange County, NY where she served as head surgeon for the past 3 years.
Dr. Raum is excited to move to the Tarrytown area so she and her husband can be closer to the NYC area and return to all the excitement it has to offer. They live with three cats: Theo, Levi, and Layla. Theo was adopted from a rescue in Hoboken and enjoys eating vegetables. Levi serenades the household at 6am every morning (including weekends). Layla spends her days hunting bugs and sleeping in laundry. Dr. Raum's professional interests include soft tissue surgery, preventative medicine, behavior and integrative medicine. She aspires to consider all factors that influence health, wellness, and disease, including mind, spirit, community, as well as body. When not catering to her patients, Dr. Raum moonlights as a professional oboist. She performs with many classical ensembles in and around the New York Metropolitan area. In addition to music, Dr. Raum enjoys SCUBA diving, fashion, painting, rooting for Manchester United, and traveling to London with her husband. Dr. Raum looks forward to exploring The River Towns and the charm, history, and culture they have to offer.